In this post, you're going to learn how to get views on Youtube in 2020.
This guide also includes lots of real life examples, templates you can use right now, advanced promotional strategies and lots more.
So if you want to get GREAT results for your Youtube video, you'll love this new guide.
Let's dive right in.
Short info and how to get views on Youtube
Did you know that YouTube is the second largest search engine in the world?

It's no longer a channel dominated by funny cats and cute babies.

YouTube has become the number one place for marketers.
However, with such a vast network of users and subscribers, it's no wonder why it takes time, effort and plenty of innovativeness to get more views on YouTube list and make your video stand out.

On top of this, there are few barriers you need to cross to reach your goal:
YouTube is now proficient at detecting bots
The algorithms are paying more attention than ever on user behaviour instead of YouTube views
Getting more views on YouTube can be quite expensive
So, to help you overcome these challenges, we've done thorough research into the techniques on how to grow your YouTube channel.
And, voila, here they are – super easy ways how to grow your audience on YouTube.
Continue reading..

1. Use descriptive and keyword-rich titles
If you were wondering how to use keywords on YouTube channel, this is where they come into play. To draw people's attention, you need to have an interesting and descriptive title for two reasons:
It will attract more users and give them a clear insight into what the video is all about
Provide keywords for the algorithm so that it can sort for relevancy purposes
Naturally, to find your keywords, you can conduct keyword research by using various SEO methods, or a whole range of useful SEO tools. A keyword planner is a tool you can use for your keyword research. Simply, select Youtube search, find the keywords and optimise your video so that the search engine and your audience know what the video is about.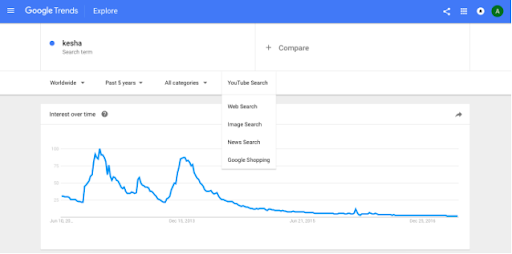 2. Use Playlists to keep people watching
According to YouTube's numbers, even the top-performing brands create and promote twice as many playlists as the bottom %25. What's the trick? Auto-play. Those big brands recognise the importance and the power of auto-play – once you start watching one video, it is very hard to pull yourself out of the rabbit's hole and stop watching the video that follows. Taking another step to play another video is a longer and more boring way. However, if you are watching a video that is a part of a playlist, you'll probably want to keep on watching, especially if the content is excellent.
Now, creating a YouTube playlist is super easy. Here are a few steps you need to take to create a playlist:
Go to the first video you want to include in the list
Click Add to.
Either select an existing playlist or choose the option Create a new playlist (of course, name the playlist)
Go to the privacy settings and set privacy for your playlist. Naturally, since you want to get more views and grow your channel, you will want to keep your playlist public.
Click Create.
Also, make sure you optimize your playlists to improve search rankings. Here are a few tips on how you can do that:
Use keywords in your playlist title
Use keywords in your playlist description
Add an optimised thumbnail image for your playlist (unfortunately, YouTube does not allow you to create your thumbnail image for the playlist, so you would have to choose the one that perfectly depicts the content of your video)
Include your best videos at the beginning of your playlist
Avoid and trim excess information. You don't want your potential subscribers to get bored as soon as they reach your YouTube channel. So, choose where to start and end each video.
Finally, don't forget to measure your playlist's success.
The easiest way to do that is to use YouTube Analytics to determine how successful your playlists are. Of course, if your playlist strategies don't seem to show good results, change the strategy and then measure again.
3. Encourage Viewers to subscribe
Just waiting for people to subscribe because they love your content is not enough if you want to grow the number of subscribers. Retaining customers can be a powerful way to grow your business. One of the easiest and super effective ways to boost the number of views is to ask your present views to subscribe. Why? Because the more subscribers you get, the bigger your YouTube views are on each video you make and publish. And how do you do that? If you want to have more subscribers, you need to be proactive. There is nothing wrong about asking people to join your channel, comment on and take part in discussions. If you have something great to offer, people will listen to you and gladly accept the invitation. Naturally, you need to live up to their expectations, so make sure you do your best to keep them engaged all the time.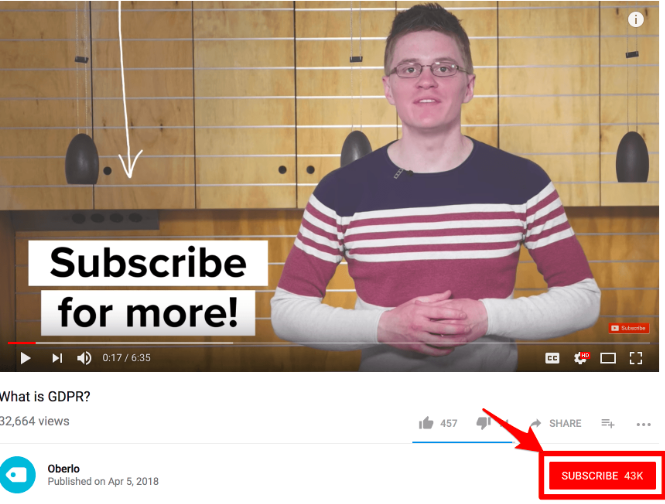 Ask your views to subscribe at the beginning of each video.
Besides asking them to subscribe to your channel, you can also remind them to turn on the notification bell after they've clicked subscribe. In this way, they will get notified every time you release and upload a new video.
Take a look at the three-part simple formula you can use to ask your viewers to subscribe:
Tell them what to do
Tell them how to do it
Tell them why to do it.
As you can see, it is a compelling call to action, and a no-brainer and will make a positive impact and encourage your viewers to keep up with al the newly released videos.
For example:
"Stay up to date with my latest video and awesome marketing tips, make sure to subscribe to this YouTube channels by clicking the button above this video. Don't miss out in the new cool stuff. Subscribe today."
Growing your subscribers is critical if you want to get more YouTube views, so don't be shy and start asking them to subscribe now!
4. Respond to comments regularly
One of the most important things when growing your media channels is to answer your user's questions and comments regularly. You need to show them that you appreciate their opinions and attitudes regardless of whether they are positive or negative and respond them on time. Also, by doing that you will be able to create a strong bond with your views, and they would want to stay up to date with anything you publish on your YouTube channel. In other words, you will become much more than just a marketer – you will become their friends who understand their needs and views.
Also, by communicating with your viewers, you will send a signal to YouTube that your videos are being watched and discussed and that they truly hold some value. This also has a positive impact on YouTube's algorithms because one of the critical factors they pay attention to is the engagement of the video.
In this way you will be able to grow a community and nurture high-quality discussions. However, keep in mind that this does not mean that you should simply answer the question your viewers or subscribers ask you. Building a community requires much more than that. You need to engage your viewers with inquisitiveness!
Here are a few things you should do:
Ask questions – besides answering their questions, ask them some of your own you think might trigger further discussion. Dig into the lives of the members of your community by asking them why they liked the video or what they would like to watch in the future
Communicate with other YouTubers – spend some time watching other producers, people from your niche, experts professionals and see what they have to say on specific topics, engage and discuss with them everything that captures your interest. Consider subscribing to a few quality videos so that you would stay up to date with the content they promote. It's also a good idea to create a video which would showcase two or three best YouTubers whose content you think your viewers would like to see.
Encourage video replies – besides answering and giving comments in writing, motivate your viewers to leave their comments in the form of a video. Plus, you can ask them to promote your brand through these videos. For instance, you can ask them to start each of their videos by saying Dear (your name), which would definitely reinforce your brand.
5. Promote other videos with end-screens and Cards
If you still haven't implemented end-screens and cards into your YouTube strategy, now is the time. You can use these tools to promote next upcoming videos in the series and keep your viewers regularly updated. However, to do that you need to verify your YouTube account because ut is the only way to access these features. To do this, you need to click on your profile picture on the top right corner and then click "Creator Studio". The next step is to click on the "Status and Features" tab: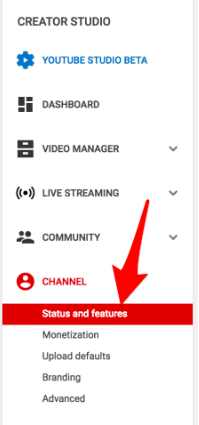 Here, you can see some extra YouTube features and set them up if you like. Now let's talk about end-screens and cards. In its core, and end-screen is a dedicated frame you can place at the end of your video, to sum up, all the things presented in the video or highlight any call to actions. Besides, end-screens, there are cards you can set to pop-up any time in the video when you want to add some additional information or send your viewers to some link or something similar. You can even use them to direct people to another video or create a poll card where you would ask them if they liked the video or not or what kind of videos they would like to watch in future.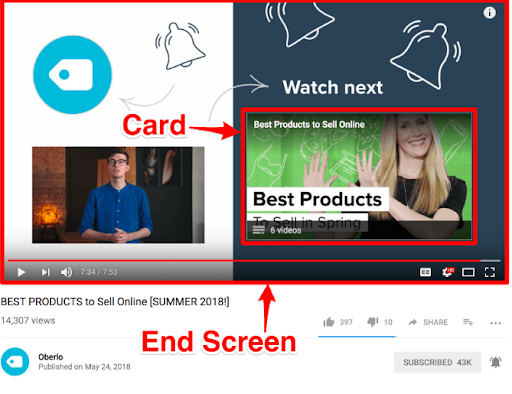 If you want to add end-screens and cards to your videos, you need to go to the Creator Studio, click Video Manager and then click Videos. Find the video where you want to add your end screen card and click edit. Once you get at the video editor page, you can easily add end-screens and cards by clicking the menu items at the top of the page: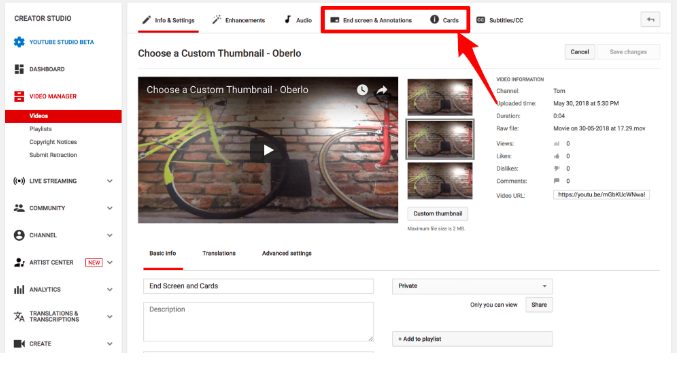 End-screens and cards are super-powerful tools that will help you make your call to action stand out, attract more viewers and engage them quickly.
6. Create a video that imitates your competitors or your industry's best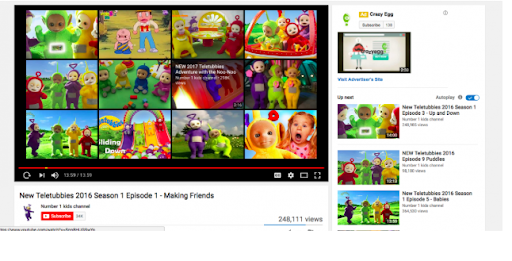 Creating something original and unique is what we are all striving for. However, when it comes to increasing your YouTube viewers, sometimes you have to use a few tricks to get noticed. In this case, suggested video that is placed on the sidebar is your goldmine. Namely, these suggested videos show the videos that have to do with the relevancy of the video the viewer just viewed. This can be very helpful as it gives you a lot of information on how to optimise your video to be relevant to the popular videos. Obviously, in this way, you will increase the chances of driving users to watch our video as it is similar to the video they have just watched.
Another thing you can do is to target similar keywords and descriptions and create content that would present the topic video is about in a more informative and engaging way.
7. Get social
YouTube is just one of the most popular social channels that you can benefit from in your marketing efforts. Besides promoting your video on YouTube, you need to share your video content on all social media challenges, including Facebook, Linkedin, Twitter, etc. You can even go one step further by creating a social media video teaser that will drive viewers and your social page visitors to see more and direct them to your YouTube channel for a full video. In these ways, the number of your YOuTube views will rise, and your community will get bigger.
But don't stop there. Take advantage of popular communication platforms like Reddit, Quora and other great forums to share your newly created videos. However, keep in mind that you cannot just share your video on one of the platforms expecting that the people will blindly follow it and reach your Youtube channel. Also, to forum users, this is intrusive. Why are these platforms, such a great way to promote video content? According to the statistics, Reddit had 1 billion page views a month in 2018, and the number has increased to 38% for video content since then. The numbers are still growing.
Another good thing about these platforms is that they attract industry leaders, experts, professionals and students interested in sharing and gaining some new knowledge. By the end of 2018, Quora user base increased to 300 million.
To get the best value from these platforms, you need to get informed on how they work. FOr instance, while Quora users share solutions on a given subject, Reddit users contribute to message threads.
Also, make sure you read all the rules and abide by them. You need to target the right audience and communities that apply to your industry niche and consider trending topics you could write on. All in all, build your reputation on your brand awareness by presenting your videos and taking part in discussions related to the videos you post.
Finally, do not forget to do some email marketing. What's the point of creating excellent video content when there is no one who could watch it.
Email marketing is a powerhouse when it comes to sales conversions/ It's pretty simple. Just send a short email announcing your new video: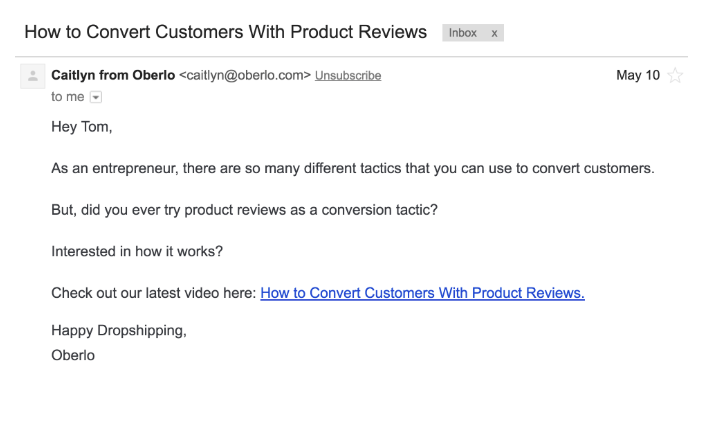 One of the things you need to pay attention to is how you announce your video in an email. Use a powerful CTA to get your readers' attention and they will surely want to see the video.
YouTube is not a standalone social channel where you can promote your content. So make sure you get the best value from all the social media channels out there. The more people hear about your YouTube channel the better rankings it will get.
8. Share your video content on your blog
If you are writing a blog post on a relevant topic that is in some way connected to the topic elaborated in the video you have recently published, make sure you post your video un that blog. The aim of using a video in your blog is to deliver value to your customers by summarising the entire blog in one short video or just adding additional information in the form of a video. On top of that, through video publishing, you capture the attention of online visitors to your site.
For instance, on your blog, you post content related to cooking, baking, preparing food, etc. Can you imagine how many visitors you will attract by posting videos and embedding them in your blog? This will help you generate high traffic volumes and even attract new visitors.
Sharing your video in a blog is easy peasy. Just copy and paste the code in your blog post where you want to display the video. Make sure the video is relevant to the topic, and that will undoubtedly add more depth to the post.
Whatever video strategy you use, the most important thing is to know your goals and work towards them consistently. People will gladly check what your blog is about if your video resonates with them, and then return for more.
9. Reach out to influencers to promote your new video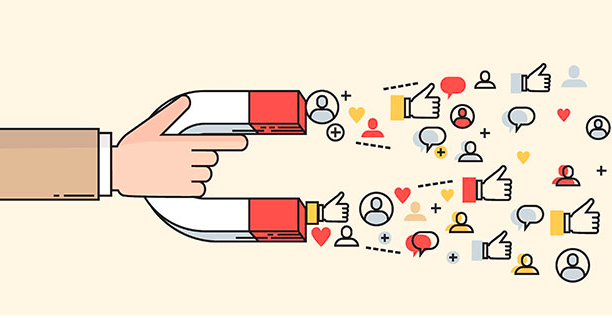 Influencer marketing has become one of the best ways to become a go-to source and reach the audience. Their audience tends to follow and reshare their content which significantly contributes to their ranking on Google. Unamo Social Media is an excellent tool that allows you to locate influencers in your niche and a sphere of interest and finally reach out to them to promote your videos on their social media channels.
When reaching out to influencers, make sure you have a compelling pitch so that your influencers won't be able to say no to you.
In reality, every pitch is different and unique. Whatever route you take, modify your pitch so that it communicates with that particular audience, group of influencers you would like to contact.
Always start by personalising the pitch. Avoid starting your email by saying 'Dear blogger' or 'Dear influencer' – this is going to be ignored by 99% of your recipients. You want your email to grab their attention and make them want to read the entire message and act on it.
Whatever you do, avoid talking about you immediately. Focus on building a good relationship with your influencer, without pointing out how this video you have just released is critical and an excellent opportunity for them.
Also, don't forget to share your thoughts on their work and praise what they do. It's always an excellent tactic to even include some of the works that resonate with you in your email to show them that you appreciate everything they do.
Tell them what you need and what is the purpose of your email. Don't beat around the bush too much – influencers' time is precious, and they do not want to waste their time on reading emails that won't bring them any value.
Try to be as concrete as possible by providing anything from instructions to sample content or images that they can use or refer to.
One way to getting closer to your potential influencers is to subscribe to their blog and sign up for their emails and social media sites. In this way, you will stay updated on any new content your influencers publish, and you will be able to show them that you follow their work.
10. Play with YouTube ads
Like most of the things on the market, you can get more YouTube views by paying for them. The purpose of Youtube ads is to expose your content to viewers who otherwise can't see your video. Luckily, there are extensive targeting options you can choose from to ensure you are getting yourself in front of the right audience and that you are promoting your content to the right people.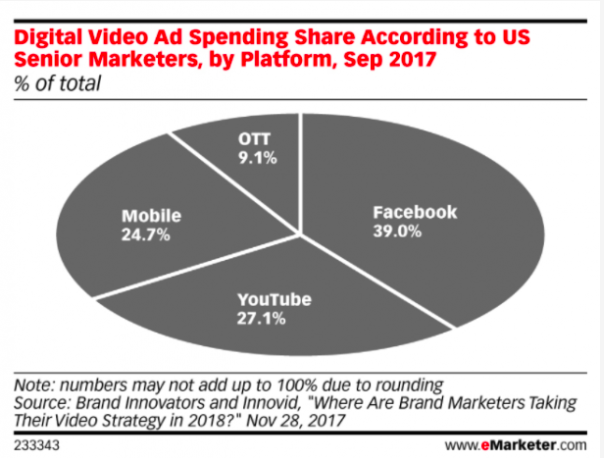 Most marketers understand how powerful YouTube adds. For instance, according to U.S senior marketers, YouTube gets the second-highest percentage of U.S digital video ad spend, right after Facebook. One of the best things about paying YouTube adds is that it can increase organic reach as well. According to YouTube numbers, people who watch paid adds are 23% more likely to go to the brand's YouTube channel, watch that video, watch more videos and even subscribe.
There are different types of YouTube ads you can choose from:
TrueView ads
Non-skippable instream adds
Bumper instream adds
Sponsored card ads
Overlay ads
Display ads
Finally, use key matrics to evaluate video ad performance via AdWords Analytics. In your AdWords dashboard, you will find ad analytics. When analysing the results, pay closer attention to the following:
Views
View Rate
Percentage View Rate until %75
Watch time
Engagement (likes and comments)
Also, as we have already mentioned before, check how the video content and the impact it has on the viewer. The first 10 seconds have to be compelling and engage the viewer. Also, a video has to have a strong call to action to encourage viewers to subscribe.
11. Create discoverable content
When creating content, most of us focus on creating a particular style of a video, such as a tutorial, instructional video, culture video, vlog, etc. But have you ever thought about the type of purpose your video content has?
According to Tom Schoyer from Video Creators, your video will always fall into two categories:
Community content – this kind of content is created for the people who already belong to the community
Discoverable content – this kind of content is created for the people who should belong to your community. It aims to attract the viewers outside of the community and motivate them to subscribe.
Surely, most of the content you create engages people that have already converted to your cause. You know your niche and the things that would draw your viewers attention, and you know how to create content that helps them.
However, have you ever thought about the things that would attract visitors outside of the community?
For example, the video below is a typical example of a community video – It is aimed at people who already know they want to start a business and need some additional piece of advice.
There is no catchy headline, the video is 25 minutes long, and there are even no keywords in the description section.
Now, take a look at a piece of discoverable content. This video below has a catchy title, and it is targeting someone who is still outside of the community but could potentially become a member.

Here are the things you should focus on when creating discoverable content:
The content should be shorter
The thumbnail image should express your brand's authority
Keywords should be in focus
Its purpose to "wow" the audience
Interestingly, these kinds of videos are the ones you usually see pop up as suggested videos on the right side at the YouTube channel which is precisely why it was designed – to become visible to people who are looking for that kind of stuff but do not know it exists.
In a nutshell, this video teaches your target audience about the particular subject and makes them aware of what's possible if they start following your channel.
So, to create this kind of excellent content, choose a top-problem, your channel is going to solve and then create something unique and shareable. Make sure to create a video that would motivate people who watch it to want to see more of your videos and even share them.
Don't be discouraged if you don't see positive results right away! It takes time to make something go viral, but the ones it does, things will never be the same again!
12. Become a YouTube ambasador
No matter whether you are a blogger, a content writer, copywriter, or creating content for the video, there is one crucial thing you need to have in mind – narrowing down your niche. You should focus your efforts into attracting as many visitors as you can, and the easiest way to do that is to stick to your niche.
The same rule applies to YouTube.
And, while this might seem challenging and even daunting ut can lead to some fantastic results in the long run. As a matter of fact, this is precisely the kind of behaviour YouTube rewards by pointing traffic your way. In other words, by choosing one specific topic from your niche and focus your content around it, you will essentially become a Youtube ambassador on that particular topic and visitors will recognise you as a go-to-expert.
Naturally, like most things in the marketing world, this is just a matter of testing. So, if at first you don't succeed try, try again. The more you experiment, practice and publish, the more experience you will gain. This will ultimately help you gather as much data as possible to, analyse it and see how your audience reacts to particular pieces of content and what specific topic you should focus on.
All in all, you need to develop a brand your YouTube followers can trust. Your viewers will tune in because they expect something specific and you should deliver on that. It's much easier to have a direction when you know your destination.
13. Understand the importance of watch time
One thing that might seem irrelevant but can have a huge impact on the number of your YouTube viewers is the watch time of your videos. Did you know that YOuTube describes their algorithm as a "search and discovery system"? This algorithm determines which videos are shown:
On the home page
In search results
Through notifications that viewers have created
Under the subscription tab
As suggested videos
The most important thing to understand here is that the YouTube algorithm is heavily based on the watch time. To be more specific, YouTube points out that "Each video uploaded – as well as every channel on YouTube – is 'ranked' by watch time".
In a nutshell watch time is the time people spend watching a particular video. So, to make your video stand out, you need to create a high-quality video so that your viewers would spend time watching them. In this way, your YouTube watch time will increase, and YouTube will consider your video as the top-quality content and your channel as a favourable one.
With this in mind, don't forget how important video intros are. Your content needs to "click" for your viewers in the first few seconds, because, otherwise, they will turn off instantly. And, then you will have a group of viewers who will stay for a few 10 to 15 seconds just to see whether the video will resonate with them or not. You should try to entertain, inform or intrigue your viewers in the first few seconds of the video if you want them to keep watching your videos for a few more minutes or even until the very end.
So experiment with the intro of your video and try to keep it to 15 seconds or less. Also, make sure your branded info is no longer than 5 seconds.
Plus, you can earn YouTube watch time credits if you refer your viewers to other videos.
14. Optimize your YouTube Channel
Optimizing your YouTube channel plays a significant role in optimizing your own YoiTube individual videos. To access and take advantage of all the optimizing features, you need to verify your YouTube account, which we have already elaborated in one of the tips above.
Once you verify your YouTube account, there are a few areas you need to focus on to get the best value from your YouTube channel:
1. Add your social channels
People who come to visit your YouTube channel will probably like to see more of your content and get familiar with your brand. The easiest way to give them a more in-depth insight into who you are is to provide them with the links to your social media pages. This will give you credibility and increase your brand awareness and visibility.
2. Create a great channel icon
Although this might seem to be less relevant at first, it actually can have a great impact on the visitor. It should be recognizable, compelling and accurately portray your brand. It is associated with your channel both on Google and YouTube. Also, you should upload an 800 x 800 image that looks great at 98 x 98 pixels.
3. Ad a compelling channel banner
One thing that will most definitely catch your visitors attention is an eye-catching channel banner.
Your banner should be at least 2560 x 1440 pixels. If you are not sure how to design your banner, you can look for the ideas on YouTube's Creator Academy. This should give you plenty of ideas on how to stand out in the sea of YouTube channels.
4. Showcase your quality content with a channel trailer
To introduce your visitors to all the things you do and the content you publish, it's always an excellent idea to create a channel trailer that would present and highlight some of the benefits of the content you create, and most importantly, give viewers enough reason and a chance to subscribe. Also, to get all the bits and pieces about how to create a great channel trailer, visit YouTube CCreator Academy.
15. Run a contest or a giveaway
If there is one thing YouTubers love is a giveaway. Create a contest or organise a giveaway as this will most definitely encourage people to see more of the content that you make and most certainly subscribe and engage in the community.
However, make sure you don't bother people with too much information. Make the contest as simple as possible by asking people to like a video, leave a comment and then subscribe to your channel. Here are some of the best practices for running a successful social media contest campaign:
Ensure that you are following YouTube policies
Give away a gift that is related to your brand – you want to attract more than just people looking for a random gift that because it is free
Spice up the things by making use of user-generated content and other non-traditional entry requirements
Your prize can be almost anything, as long as the right people would want to get it. Besides material stuff, you can also offer a service or an experience as a prize. For instance, according to research, millennials are more into experiences than products when it comes to prizes. Whatever you do and whichever prize you choose, make sure that it is closely related to your audience interests. For instance, ECO-BOOST's audience is super environmentally aware. Take a look at the green goodies the girl in the video below shares:
However, make sure you do not organise the contests too frequently. After your first contest finishes, check the numbers to see how many people have engaged and what is a drop-off rate of your subscribers. If there are no new engaged subscribers, this means that you might be attracting people who are only interested in getting a prize and not into your content.
16. Transcribe your videos
Another thing that can have a considerable impact on your YouTube channel SEO are transcripts. In its core, the transcript is a textual representation of the content presented in the video you are promoting. Transcription is essential because, unlike viewers and other YouTube visitors who can watch and listen to the video, search engines can't do that. But, they can do an index text. A transcript enables search engines to ingest your multimedia content and index it accordingly. Luckily, YouTube allows for closed captions where a transcript is added as subtitles to a video.
Transcriptions are much of a help if you are planning to open your channel to an international market. By doing the transcription of your video, you will give a chance to people with different language abilities worldwide to find and engage with your content, and ultimately understand your videos better.
And how do we know that this works? According to a study conducted by Liveclicker pages with transcripts earn an average 16% more revenue than the pages with no transcripts. In this research, they compared 37 pages. Another example is a radio show This American Life which transcribed all of their videos and experienced a similar boost in views. As a matter of fact, they found out that 6.26% of all unique visitors came from search traffic landed on a transcript page.
And how to do that? Simply, create a SubRip Subtitle file, SRT for short, which includes the start and the finish times next to the text. This is then saved as a file with timings so that the text displays at the right time in the video.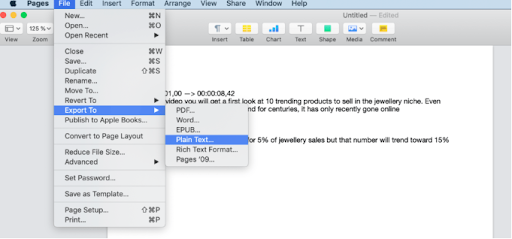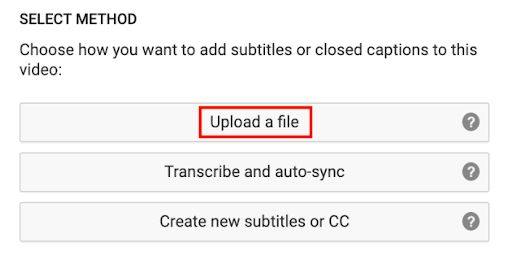 Of course, once you have finished all of this, check if the text displayed in the video is adapted to the content and whether the timing is right. And, that's all.
17. Customise your thumbnails
Creating a custom thumbnail is another awesome trick you should try in your marketing efforts to increase the number of YouTube views. Your title and a thumbnail image are the first two things viewers are going to see before they even start watching your video. This is the moment when they decide whether they want to watch it or not. To grab their attention, you need a custom-made thumbnail that keeps them watching your video.
Of course, YouTube offers its own screenshot for a given video. Unfortunately, this image may often be blurry and not so representative. To avoid this, you need to create a thumbnail yourself and make them look more appealing to your viewers at a glance, but they also have to signal a certain level of professionalism.
You can even go one step further and create a thumbnail with your brand logo on it and particular style and recognisable font. This will create consistency in your video publishing and give an impression that you are professional and authoritative brand your viewers can rely on.
There are many great tools you can use to create incredible and compelling customised thumbnails. One of them is Canva. Take a look at the example below form Binging with Babish: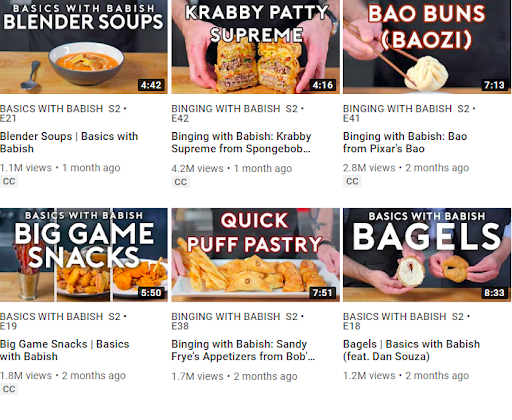 When creating custom thumbnails, there are a few good practices you need to keep in mind:
Create your brand image – original recurring design will help you become easily recognisable. This is called branding, and it will help you raise awareness of your personal brand.
Colours – make sure you use a line of colours that will maintain your image. Also, try using only bright colours as these will have a positive influence on your viewers, but no more than five colours in total (including background and the text). Keep in mind though that the most significant contrast should be a background and the title.
Text – Use the same font you have used throughout the video to keep the consistency and make sure your message is short and very clear – your viewers do not have a lot of time to waste, they need the information now.
Background – The background of your thumbnail image depends solely on your target audience. For example, if your target audience includes kids who are into video games, make sure you use a background that is related to that specific audience – something related to action, like fire or explosion.
Emojis and emoticons – you can use a wide range of emotions as well to draw viewers' attention but make sure you don't overload the image.
18. Use tags
Another SEO trick on how to get views on Youtube. By inserting tags into your video description, you will help the algorithm understand what your content is about and make your users want to see your video. These, along with your video description and title, should be the core of the video you are planning to publish to a broad audience.

Again, what you need here are the keywords. If you don't know what keywords to focus on, you need to do keyword research by using either a keyword planner we have already mentioned above.
You can even spy on competitors' tags and use them in your video. Don't copy all of them, but only the ones you are missing. But how do you know which tags your competitors have used? Luckily, there are a few great tools that can help you with that VidLQ and TubeBuddy
But, there is one thing you shouldn't do with your YouTube video tags – don't use the keywords that are searched a lot even if your video doesn't have anything to do with those tags. Why? Because you are violating the YouTube TOS. Also, you need to be aware that your title and description support your tags, which means you are highly unlikely to rank for a random popular keyword that has nothing to do with your video.
When it comes to the number of tags, YouTube limits you to 500 characters in your tag filed. This means that you can use as many tags as possible until YouTube informs you that you've crossed the limit.
19. Set a posting schedule and stick to it
Consistency is the number one thing in today's digital marketing. If you are not consistent in your marketing efforts, you are not sending a message strong enough to attract more people and increase your community.
By posting our videos consistently and frequently, your viewers will always know when to expect new content from you, and you will be able to reach more people.
So, before you even start posting your video on YouTube, create a posting schedule ahead of time:
-Plan a diverse content strategy that would include a variety of videos including how-to videos, animated videos, listicle videos, videos presenting your company culture or your brand, interviews with experts from your niche, etc.
-Set the days of the week – preferably, you should set the exact time to upload your videos on each day as the specific time
Although this planning and scheduling can be a bit time-consuming, it will bring you much value in the long run. Also, you can use a variety of marketing tools that can help you film and edit your video and reach the best possible results.
There are even tools like Wave that give you a possibility to choose from a wide variety of stock video clips which you can use to create and edit compelling live-action videos.
Besides editing your videos, you can also add music, voiceover and watermark to make it even more compelling and gain more views. Finally, you can create animated videos by using a variety of tools.
Planning your schedule of posting videos on YouTube will help you get a clear picture about what things your audience likes, and then use those insights to create videos that will resonate with them and make them want to subscribe and regularly stay up to date with the new content.
20. Go live
Another excellent way to communicate with your followers is to create live videos. It is actually one of the biggest social media trends and is continuously gaining popularity. The best thing about live videos is that they allow your viewers can see you in real-time. Live video is an excellent opportunity to share your knowledge and exchange experiences with people from your community, get to know them better and let them ask you any questions they might have, but haven't had the chance to ask you. Your viewers will be eager to comment on the video you upload and join in discussion with you. This is a great way to engage people and motivate them to subscribe to your channel.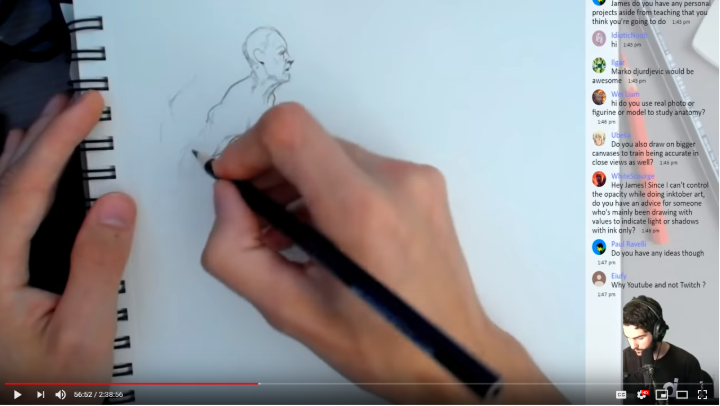 YouTube has been offering live videos for years now but has only recently started gaining popularity among YouTubers. To get a sense of how YouTube live videos look like and how the viewers react to them, check out some popular YouTube videos.
You can create a variety of formats of live videos, and some of them are:
Webinars
Live tutorials
Q and A sessions
Product demonstration
In case things do not run as smoothly as you have expected, don't worry! Part of the appeal of those live videos is that you will never know what is going to happen. The organic nature of a live video is what makes it super-exciting and fun.
Also, keep in mind that live streaming is a great opportunity for you to remind your viewers to watch the videos that are not getting any views or just to announce a new video that is about to be published. If you have any doubts concerning live streaming, you can always find all the details in a full guide for live streaming by Google.
21. Step up your YouTube SEO
Did you know that YouTube videos show up in 70% of the top 100 Google search results? If you are searching for any new product or "how-to" search results will include some kind of a video.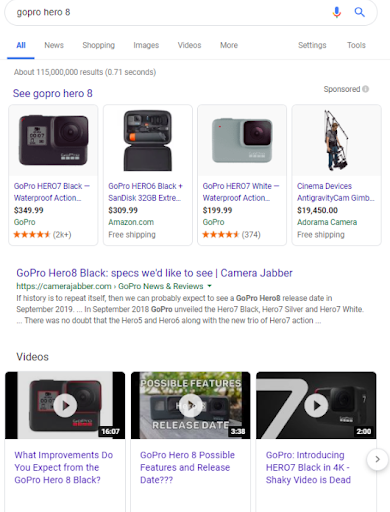 Actually, it often happens that YouTube videos pop up even before blog posts (if you are searching for blog posts)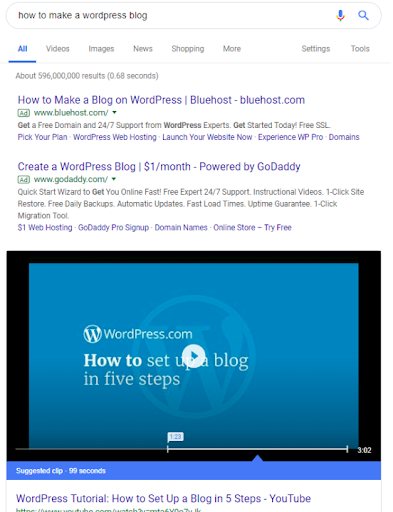 YouTube is literally goldmine when it comes to the content related to new products problem solution. There is literally no product or how-to instruction that you cannot find on YouTube. That's why it is important to think of YouTube videos like any other piece of content that needs to be optimised in terms of keywords, tags, and so on.
To get the best value from SEO, make sure you implement some of the best practices outlined below:
Engagement – YouTube uses likes, comments, views to help determine where the video ranks in its search results.
Categories – categories are a great way to help YouTube get a better understanding of what audience to show your videos to.
Mention keywords in your video – this is imperative if you want your video to gain visibility over the network. According to Brian Dean, using keywords in your video can help YouTube better understand what the video is about
Tags – as we have mentioned before in the text, to give your YouTube videos more context about your content, you can add tags to your video. You are limited to 500 characters so add as many tags as you can think of.
Titles and description – besides being eye-catching and compelling, video titles and descriptions should also have target keywords. In this way YouTube will gain insight into what your video is about.
However, make sure you don't use too many keywords, only when it makes sense to use them.
22. Check your analytics to get actionable insights
What's the point of doing any of the tricks to get more YouTube views if you don't measure the retention. This is where Google Analytics steps in! The secret behind optimising your YouTube videos and YouTube channels is to focus on growing the number of viewers and subscribers. In order to analyse retention, go to your YouTube Creator Studio Classic and click on Analytics.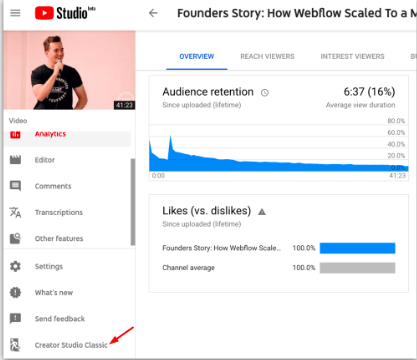 To see if you are improving over time, you can dive in your Audience Retention. This determinant will give you all the necessary details regarding your current marketing strategy and let you know if your YouTube channel is on a successful track. This refers to all of the marketing strategies and not only on this particular one. You can even track retention by analysing individual videos as well. But, the best part is that you can see if you are running effective ads or not and if they have any impact on your marketing strategy.
In the example below, you can see that the ads had a negative impact on the retention rate.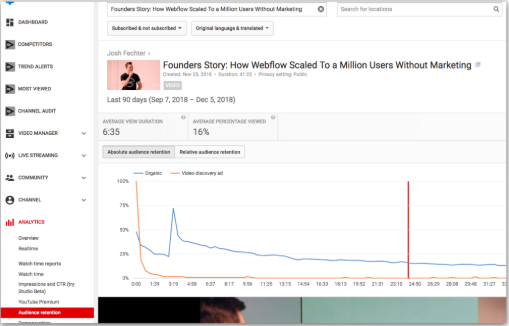 To get a clear picture of what works and what doesn't, you need to test as many different content types as possible. Once you find something that works for you, then double down on it.

In the picture above, we can see that the watch time has the highest correlation to more subscribers so we want to double down there. To understand where this watch time is coming from you need to analyse various traffic sources including YouTube Search, Suggest Videos, Channel Pages, and YouTube Search. If you can find out how people found you on YouTube, then you can use those insights to optimize for it. Compare the average watch time to to the number of views and then look at how many subscribers those videos attract.

Next step is to understand what keywords are pushing the traffic through the highest performing channel. Once you find those keywords, you need to optimize them. Make sure you choose the keywords that lead to subscribers and a long video watch time. You can see the steps in the picture below.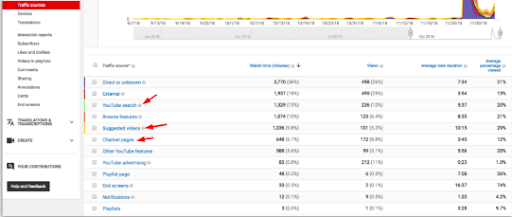 Although we have already discussed keyword optimisation above, let's see how we can optimize these keywords. Put in the best keywords in the title of your video and in the video description.
You can even take one step further and include an email address with autoresponder so that you can thank all of your viewers for their inquire and politely asking them to subscribe to your list. You can even include a link to your landing page or even Facebook page to get their emails.
Finally, discover what videos are referring your traffic and subscribers and then optimize all the keywords in video titles and channel names. For instance, if you see that Justin Bieber's channel is sending you a lot of traffic through one particular video published on that channel, then you need to insert his channel name as well as video title name into your keyword list when you want to optimize for traffic.

All in all, subscribers and retention rate are the two most important determinants when analysing your YouTube SEO through Google Analytics. So, whenever you publish a video, optimize them for these metrics, and then check the results to see how that keyword optimisation is performing and where your video's traffic is coming from.
23. Invite Guest vloggers
One of the ways to increase traffic to your blog is to invite guest bloggers. The same thing applies to your YouTube channel. If you want to get more views, one of the ways you can do that is to invite quality guest YouTubers and enrich your YouTube channel. Industry influencers, guest vloggers and other persons of note can do wonders and boost your views.
Offer a link to one of their videos or websites in your description, and soon you will be able to create and benefit from relationships built on reciprocity. It's a win-win situation for both sides.
For example, if you have a YouTube channel dedicated to bicycle maintenance, and someone else has tips on how to maintain bicycles, as well as what techniques to use to get into shape through cycling, the two of you can give each other shout-outs and mentions and increase each other's views on YouTube.
Also, you can invite them to create a video with them. This means that they will also share your videos with their followers if you do the same for them. However, before you invite them, make sure you do an in-depth analysis of the most influential vloggers you think will contribute to your views, that is who has the same audience like yours and who come from the same niche you come from. Guest vlogging is not only a great way to get more views but also to add more variety to your channel. On top of this, by collaborating with other influencers from the industry, you can create super creative videos that will refresh your YouTube channel and get you more views in the long run.
24. Focus on the video content
Before you implement all of the techniques mentioned in this text, you need to focus on creating a high-quality content video that your viewers would want to watch. The bottom line – YouTube likes longer videos, and there is plenty of evidence to support that. As a matter of fact, YouTube experts claim that the watch time of your video is THE most critical ranking factor and this kind of makes sense. In a nutshell, one of the primary goals of the YouTube channel is to keep viewers engaged on YOuTube. So, when choosing between a series of 10 x 3 minutes video and one comprehensive 30 minutes video, you should always opt for the longer one because according to research, this will increase your traffic.
However, besides focusing on video length, you also need to make sure you get to the point very quickly in your videos. Brian Dean recommends 'PPP Formula' which stands for Preview-Proof-Preview, and this is how it looks like:
Preview – tell your audience what your video is all about. For instance, in this video, you are going to learn XYZ…". In this way, you provide your audience with a clear insight into what to expect from your video.
Proof – tell your viewers what why you think that this video is essential and what benefits it can bring them. In other words, say why you think they should listen to you. "I used the lessons in this video to achieve ABC, or help you understand XYZ and then use it to achieve a particular goal." Or, for instance, "The lessons I am about to share with you are based on extensive research and experiment I conducted…"
Preview – the next stey ou need to take is to talk about something you think your users would love to hear about and learn. For example: "I am going to share a particular tip that you won't find anywhere else…", or "One of these lessons is based on new, exclusive research and will DEFINITELY surprise you!"
25. Put a call to action in every video
There is a good reason why every marketer will remind you how important it is to use a compelling call to action not only in a blog post but also in every video you publish. Call to action has one primary role – to make people want for more and do something about it. When creating a video, it's always a good practice to remind people to like, comment, subscribe or share your video on their social media networks. Call to action is an engagement factor that significantly contributes to the success of both the video you are publishing and your YouTube channel. Although it might seem strange and inappropriate to ask people to engage by liking or sharing your content, it makes more sense than you might think.
Clifford Chi at Hubspot points out that there are eight types of CTAs you should be using in your YouTube channel:
Beginning of the video CTA – according to the research conducted by KissMetrics, 40% of viewers bounce from the videos that are 2-3 minutes long. On the other hand, 20% of viewers bounce from videos that are only 1 minute long. Placing a video CTA at the beginning of the video and leaving it there throughout the entire video could generate more links. In this way, both the people who watch the whole video and the people who stop watching before the end will have a chance to click on it.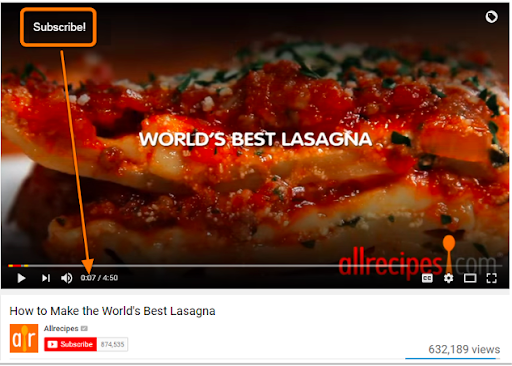 1. Suggest another video CTA
If you want your audience to keep watching your videos, you need to suggest related videos they should watch instead of suggested videos YouTube autoplay function recommends. This will not only boost your video's watch-time, but it will also have a huge impact on YouTube ranking algorithm.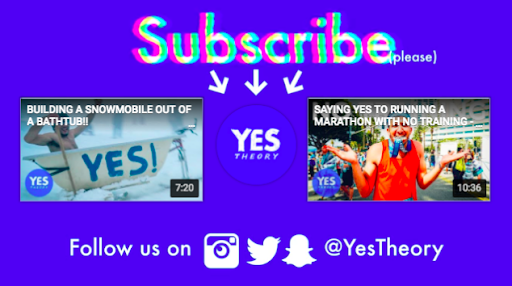 2. Subscribe to channel CTA
One of the biggest benefits you can gain from subscribers is the engagement. Subscribers will always get the notifications that you have published a new video and therefore see your videos more frequently. The more subscribers you have the more watch time your videos will accumulate, meaning that YouTube will rank those videos higher on Google.
Business Insider does a great job. They feature a subscribe CTA for the last 15 seconds of your video so that it gives users ample time to subscribe.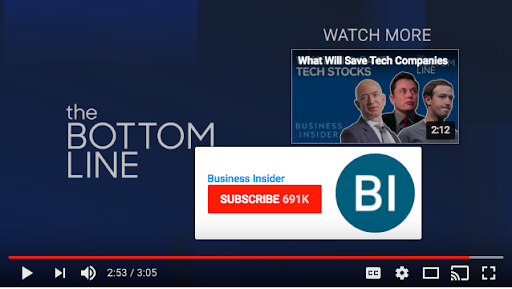 3. Follow on social media CTA
If you put social media buttons in your video, your loyal subscribers and random viewers might join your social media community as well.
For instance, Walt Disney placed social media buttons in their Moana's trailer so that the viewers can see all the updates on the cartoon directly on Walt Disney's social media networks.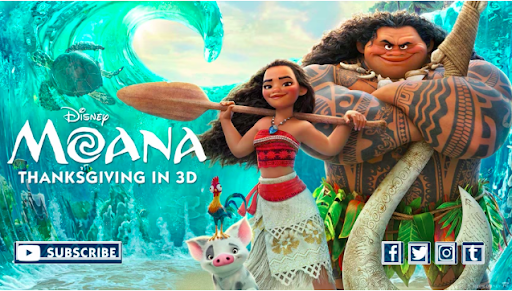 4. Lead Generation CTA
Attach your top performing lead generation content to your videos and use it to educate your viewers or simply preview that particular topic like Hubspot did.
5. Drive to website CTA
Try guiding your YouTube viewers to your website either to see a related content on a blog page or just to visit your homepage and get familiar with your brand. If they love your work, they will definitely want to follow you and stay up to date with all the content you are sharing.
Check out how this is done by YouTube channel LifeAccordingToJimmy: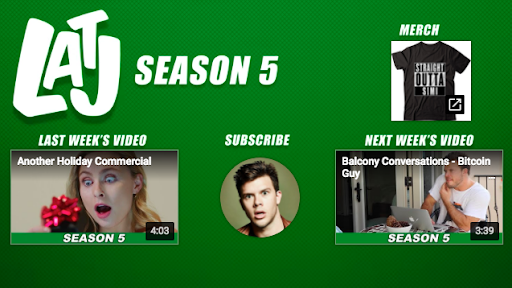 6. Description CTA
In case you don't want to bombard your viewers with pop-up CTAs on your end screen, you can take advantage of your description section of your videos to motivate your viewers to act on it. Take a look at Conor Maynard who attracts subscribers by promoting his channel page, Spotify page and other social profiles in the description of his video.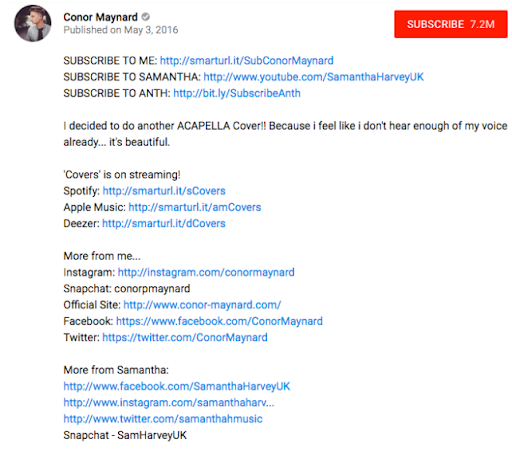 7. Auditory CTA
According to Backlinko, if your viewers share your video on their social media networks they automatically increase your YouTube rankings. With this in mind, you should ask your viewers to share your videos on social and spark debates and ask them to continue discussions started on your YouTube channel.
26. Know what's viral
One of the most important things you need to do before you even start making a new video is to make sure you are in the know and up to date with current trends in that particular industry you are part of. You need to know what makes people want to watch your videos, that is what is viral. If you are well-aware of the things that are happening in the world especially in your field of interest can create videos that are trendy and interesting not only to your subscribers but also to random viewers or the ones who are exploring your niche. Plus, this gives you an invaluable insight into the content that you can share with you audience before any of your competitors does the same. This will give you a chance to be identified as a leader in the industry which leads to more exposure to your content and your views.
27. Ask your audience what they want to see
One of the ways you can create awesome content and increase traffic to your YouTube channel rapidly is to ask your audience what kind of content they want to see or read, and then create that content for them. As a result, they will think you can read their minds.
By creating content that your viewers actually want to see is a surefire way to increase the number of loyal viewers and keep them coming back for more content. Graham Cohrane explains that he gets incredible ideas for his video content by collecting and analysing interesting comments people leave on his Youtube channel and a website as well. When he doesnt have more gathered information, he goes and asks his audience about what they would want to watch on his channel. And, then he makes a video. Sound awesome, right?
28. Get branded
If you want to establish yourself as a leader in your niche, and increase your brand's visibility and awareness across the market, you need to stay consistent. This means that you have to make your YOuTube channel appealing so that you would differentiate yourself from other similar brands. This refers not only to your YouTube channel, but also to your website and social media networks. The key is to stay consistent and appealing to the masses. If your YouTube channel is outdated, your viewers won't be motivated enough to watch any of your videos nor to subscribe to your channel. Check out how ModCloth does that: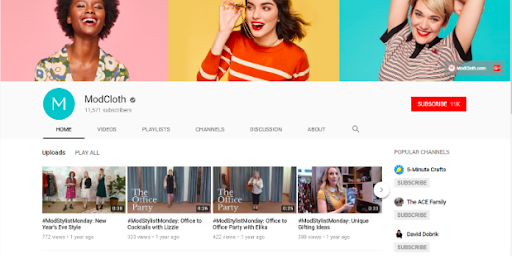 29. Create series of videos
Another great way to encourage your viewers and subscribers want to stay up to date with your YouTube channel content is to create a specific video series that a recurring theme or topic. For example, a popular foodie channel called Bon Appetit offers a variety of series that make up their YouTube presence, including their ongoing "From the Kitchen Videos" .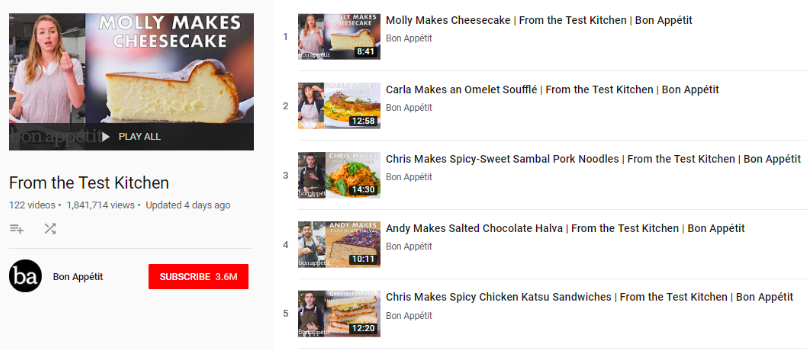 Serias is an excellent opportunity for you to publish a fresh content without having to rack your brains for new inspiring ideas. Also, a captivating series of videos keeps your viewers engaged and willing to keep coming back to your channel to see what new videos you have published. In other words, they will be looking forward to your content, which is the ultimate aim of your channel.
30. Feature your video on YouTube page
As soon as you post your video on your YouTube channel you need to post it on the front page as well. This is important because people who come to visit your YouTube page should be seeing your most current video. Ultimately, this makes your video channel and organisation look up to date, current, relevant and professional, and puts the video in the center of attention.
A quick reminder: how to create a video everyone would love watching
Here are a few steps you need to take to create an awesome video everyone would love:
1. Plan your video thoroughly
The first thing you need to do is to plan a video, including every scene and each section of a video. To do that you need to do a thorough research on which content you want to focus on. Think about what topics are trending and which particular topic would draw most of your viewers' attention. Next, plan the messaging you would like to convey through your video, and plan all the call to actions you would like to include in the video as well. As we mentioned before, call to action is vital if you want to make people do something after they watch a video.
Why is it important to structure and plan your video? There are three major reasons:
Consistent videos that flow well build viewer interest and engagement
YouTube ranks videos according to watchtime
A consistent format build familiarity with your audience
2. Create a script
Once you have planned your video, start writing a script. Your language should be concise and appealing to you audience. Make sure you do not use many technical terms if your video is some kind of a beginner's guide. On the other hand, if your video is aimed at providing an in-depth explanation of a particular topic, ensure that it has all the terms related to that particular industry to build trust with your users. Note that making a long script will not make a good viewing experience.
3. Organise your scenes
Think about whether you would like your scenes to be animated, live-action or real-time. Aslo, consider all the props you would like to include in your video so that your viewers stay engaged throughout the entire video. Think about the branding you would add to the background of your video.
4. Prepare yourself
No matter whether you are making the video for the very first time or you already have some experience making videos, you need to prepare yourself for all the things that may go wrong in the process of making a video and think of a solution for each problem that may come up.
5. Edit your video
Once you develop scenes you can start editing your video in order to omit small mistakes or elements of scenes that don't fit. Think about whether scenes and the text sounds natural and cut the ones that dont. You can even use one of the video editing software to cut the footage from your video. There are a variety of free editing tools you can choose from, but there are more functionalities you can get from paid tools and programs. Familiarize yourself with the tool you are using so that you know what you can create with it. Some of the editing tools are Adobe Premiere, Windows Movie Maker, iMovie, Final Cut.
Naturally, make sure you don't upload an unedited video because it won't gain many views and may even cause your views to drop. Note that YouTube has an integrated editing tool but it has a limited number of functionalities.
6. Upload YouTube video
On your YouTube platform you can upload a video including a title of your video, tags, video description. We have elaborated on these things in this article and emphasised how important they when it comes to increasing the number of views on your YouTube channel.
Conclusion
Video has become an integral part of Internet users, online experience and it is a part of the marketing efforts most companies invest to position themselves on ever-increasing market. Taking into account that YouTube boasts more than 3 billion video views per day, it is one of the best places for marketers to express the biggest values of their products, find consumers and get better rankings on Google.
YouTube marketing is an essential part of any marketing campaign and should therefore be taken seriously every step of the way.

If you follow the tips we have outlined in this guide on how to get views on YouTube boost will come and you will experience the real value of this awesome social media channel.

Let us know below by leaving your comment, question or request.

We will gladly answer all.